Jinke Mission
For your good life
Our mission: to meet our clients' yearning for future life. Jinke Services provides clients sincerely with considerate services, creates a lifestyle of good quality, offers shareholders good repayments, presents employees good scenarios of the company, and always takes social responsibilities.
Jinke Spirit
Observation and insistence
struggle and competition
observation:be observant to generate insights and catch opportunities in market. We advocate crossover thinking and turn inspirations into actions to adapt the continuous and unanticipated market with insights and concentration.
Persistence: stick to dream and never give up. Taking actions without persistence is insufficient to meet the goal. On initiating the plan, we spare no effort to make a difference. Under no circumstance, shall we abandon and flinch.
Jinke Style
One quick step and react with details.
One quick step is to take the lead in the field and launch a pre-emptive strike, ensuring that the company occupies the favorable position in the market.Paying attention to details: Jinke serves clients with excellent services which can be seen from fine details.
Jinke talent
Talents are the primary resources.
Company prioritizes talents in our developing course. Our competitiveness originates from the personnel.
Adhering to the tenet:"talent is the primary resource", Jinke sees the employees who make contribution as a valuable wealth.
Talent selection
Company pays more attention to talents' quality than their experience, builds a talent map and capacity model. We can find talents through comparisons and long-term observations, boosting a benign flowing of talents in our company.
Talent Utilization
In terms of talent utilization, we are oriented by result instead of rules. Guided by strategic objective, our company sticks to the following principles: to appoint talents of integrity and ability,to encourage talents to compete fairly, to promote talents step by step, to ensure an unblocked two-way career channel.
Talent cultivation
The notion of talent cultivation switches from the standard training to customized training. On the platform of Jinke Services college, we build a learning organization to incubate talents by stimulating the potential of employees and offering various career plans in accordance with their aptitude.
Talent retention
The key of talent retention is to transform them into business partners other than profit sharers. Our company treats talents with the principle of "high goal, high competition and high motivation". In this case, employees wouldn't refuse to work, leave the team, or quit the job.
Talent concept
Giving chances to the talent while weeding out the mediocre and the incompetent.
Company is committed to empower employees of good doers. We dare to assign central tasks to integrate and able employees, and we are determined to select out the incompetent ones.
After selecting, training and appointing two types of talents: talents of generalship who think crossover and shoulder responsibilities and talents of executive ability who are good learners and self-driven, we found high-grade qualified staff skilled at client services, daily operation and company management.
We will extend a helping hand to those with mediocre performance and are complacent and perfunctory at first. Those who have changed little will be adjusted and will no longer hold important positions.
We advocate the "Wolf spirit", which combines performance management and selection mechanism, to remove the barriers off development road, thus forming a good competitive atmosphere from inside and outside, for the newcomers or the old stuff.
Behavior standard
Behavior code: morality;
competence; diligence;Performance; probity
Self-discipline standard: 9 Dos and 9 Don'ts
To be studious | To be innovative | To be collaborative |To be passionate| To be honest | To be confident
To be thrift |To be upright|To be loyal | Don't be sluggish| Don't be conservative| Don't be irresponsible
Don't be indifferent| Don't be fake| Don't be conceited |Don't be extravagant| Don't be greedy| Don't be rebellious
Morality
strengthen group cohesiveness by moral virtues
Each of us tries to be a man of good virtues, of responsibility and of overall consciousness to strengthen team spirit.
Competence
impress people with excellent expertise
Each of us tries to be top-notch experts of modesty, of knowledge, of skill to lead the team.
Diligence
Motivate the team with diligence.
Each of us tries to be a man of diligence, of efficiency and of innovation to devote ourselves to work.
Performance
Encourage people with good performance
Each of us tries to be a man of ambition to compete in the market, of upward mobility to upgrade our services, of inspiration for collegues.
Probity
Influence people with probity and self discipline.
Each of us tries to be a man of probity, of righteousness, and of self discipline to take a lead.
Enterprise culture activities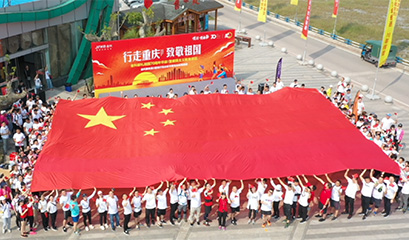 2019 Jinke "run for fun" Half Marathon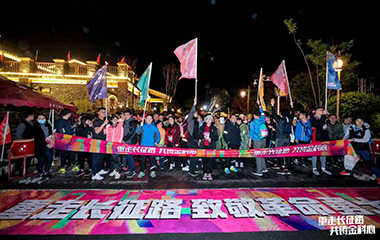 2019 Wolf challenge: marching 100km overnight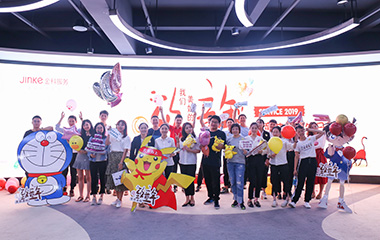 2019 "To our prime childhood" -Children's day theme activity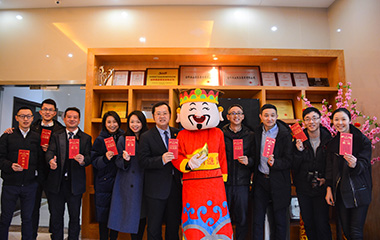 2018 Company Opening ceremony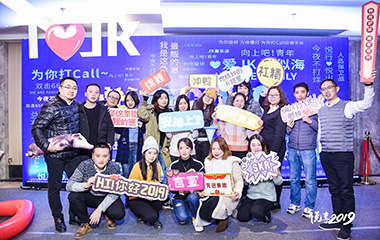 2018 New Year's evening party